Sean Coaching
Sean has been coaching tennis, squash and badminton for over 19 years amassing over 14,000 Coaching hours. He is passionate about racquet sports and is committed to improving his clients' skill levels. . Watch the video for a quick overview of what the site has to offer.
.
Have a look at my brochure for 2022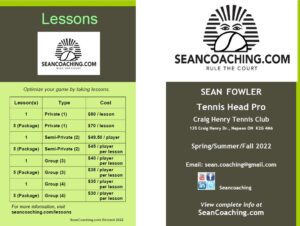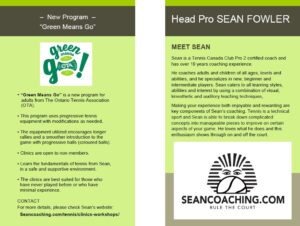 .
Testimonials
Sean is a wonderful coach and extremely competent coach that I highly recommend.
He is friendly, patient, encouraging , and knows exactly how to improve your game.
Andrei P
I had a very good lesson with Sean. It was direct and constructive. I am looking forward to my next lesson with him.
Stan W
My sessions with Sean are used for match play, and Sean does an excellent job of challenging every aspect of my game. Highly recommended.
Dave L
Sean is very inventive with his teaching. He makes learning and practicing very fun and enjoyable.
Jamie A
As a co-worker of Sean's, I know how much time and effort he puts into his lesson plans and how he much loves coaching.
Alyson H
Sean breaks down complicated techniques into manageable pieces.
Roberto G
Sean lessons have been instrumental for improving my consistency and selecting better strategies during games.
Pierre G
His passion for tennis is very evident in the way he teaches because he is always in a cheerful mood and you can tell that he loves what he does.
Tyler Y
 Sean has a very positive attitude that he brings to all programs and it is truly contagious, which is, I think, a key to success.
Mathieu G
Sean is patient and fun. He's great with kids and adults and adjusts to everyone's skill level. He always makes it fun while learning new skills.
Sarah F
Sean is an amazing that caters to many different learning styles. Excellent teaching technique for students willing to learn more than one racket sport b making ties between the different disciplines. Always has a smile and gives constructive criticism. Avoids repeating the same drill and keeps everything fun.
Pierre-Luc G
[button link="" color="blue" size="xlarge" type="3d" shape="round" target="_self" title="Register Now!" gradient_colors="|" gradient_hover_colors="|" accent_color="" accent_hover_color="" bevel_color="" border_width="1px" shadow="" icon="" icon_divider="yes" icon_position="left"modal="contact-me" animation_type="slide" animation_direction="right"animation_speed="0.1″ class="" id="