Sean Coaching
Sean has been coaching tennis, squash and badminton for over 15 years. He is passionate about racquet sports and is committed to improving his clients' skill levels. . Watch the video for a quick overview of what the site has to offer.
Here are some of my Summer 2019  Programs which include summer camps and & after-school. For more programs see their respective tabs.  The ball machine rental will begin May 15 2019. I look forward to seeing you on the court!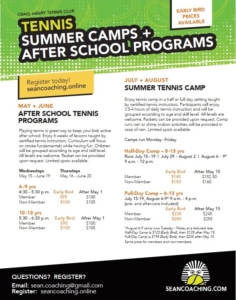 Have a look at my brochure for 2019! Note: Not all programs are listed.
Sean is a wonderful coach and extremely competent coach that I highly recommend. He is friendly, patient, encouraging , and knows exactly how to improve your game.
I had a very good lesson with Sean. It was direct and constructive. I am looking forward to my next lesson with him.
My sessions with Sean are used for match play, and Sean does an excellent job of challenging every aspect of my game. Highly recommended.
Sean is very inventive with his teaching. He makes learning and practicing very fun and enjoyable.
As a co-worker of Sean's, I know how much time and effort he puts into his lesson plans and how he much loves coaching.
Sean breaks down complicated techniques into manageable pieces.
Sean lessons have been instrumental for improving my consistency and selecting better strategies during games.